Buzz Pops CEO, Joseph Isaacs, just named Innovator of the year in Tampa, Florida for company's explosive growth and innovation which includes the creative launch of its mobile franchise opportunities throughout the US. Buzz Pops offers the first Adult Ice Cream truck franchise in America with exclusive products. You will be the coolest guy in town.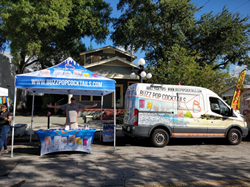 "The Buzz Pop Cocktails® Mobile Franchise is an opportunity to be in business for yourself, but not by yourself, and market the decades hottest patented Adult Push-Pops", say President, Juan Sastre.
TAMPA, Fla. (PRWEB)November 01, 2019
Based upon the successful business concept founded by Joseph Isaacs in 2016, "Buzz Pop Cocktails®" is a fun, exciting, and unique retail business gaining buzz in the franchise industry. Mr. Isaacs took the cottage industry by storm when it introduced the world's 1st all-natural Adult Push-Pop that same year that contained a full shot of premium alcohol. Sales his first year were tremendous, and have increased over 2600 percent since, proving he had something special that people wanted to enjoy year around.
Buzz Pops® combines passion, innovation and a commitment to quality to bring customers a fresh delightful and memorable experience. Our wide selection of premium products and excellent customer service thrills customers, but it is our unique Adult Push-Pops that keeps them hungry for more!
"As one of the newest growing, award winning franchises, we're always looking for partners who are as passionate about our Alcoholic Popsicles, Gelatos & Sorbets as we are," says President, Juan Sastre.
"Franchising was the ideal evolution for this Florida based food-service based company," says CEO, Joseph Isaacs. Buzz Pops® currently services some of the country's most prominent brands which include TAO group, Ritz Carlton, Waldorf Astoria, Disney Springs, Levy Restaurant Group, Aramark, Legends, Caesars Entertainment, PGA Resorts, 4 Seasons, MGM properties, Zappos, Alight, Home Depot, Wrigley Field, Austin Convention Center and many more.
The Buzz Pop Cocktails® Mobile Franchise is an opportunity to be in business for yourself, but not by yourself, and market the decades hottest patented Adult Push-Pops. Franchisees will be part of an exclusive group of entrepreneurs selected from around the United States to sell our brand in a protected territory as well as at events. You will be the coolest ice cream truck vendor in the nation. Our brand is currently in high demand throughout the USA at car events, food and wine festivals, music festivals, fashion shows and even the Super Bowl.
Buzz Pops® offers franchisees:
Work Part-Time or Full-Time
Low start-up investment
Mobile opportunities
Sell an In-Demand Delicious Premium Product line
Patent Protected
Training provided
Ability to Create Endless Smiles & Laughs While Profiting!
Buzz Pop Cocktails® brand recognition is over the top. Media has been very kind to us, and we have been featured in editorials and articles globally. Amongst the media coverage Buzz Pops® has received includes: PopSugar, Thrillist, Delish, Food & Wine, Merchandising News, BestProducts.com, Clevver (https://www.youtube.com/watch?v=kkcWU1verRk) , Tasting Table, KNCIFM.com, Scarymommy (http://www.scarymommy.com/alcoholic-push-pops), Bustle (https://www.bustle.com/p/alcoholic-push-pops-called-buzz-pop-cocktails-are-the-ultimate-in-nostalgic-summer-treats-9402064), Brit+Co, Disney News, Travel & Leisure, Fox & Friends and Country Living Magazine.
MORE ON BUZZ POP COCKTAILS®
Buzz Pop Cocktails is a Florida based manufacturer with patent pending technology that allows it to freeze alcohol in high volumes and produce a product that is just under 100 calories, Vegan, Gluten Free, Fat Free, Certified OU Kosher, Real Fruit and Top Shelf Premium Alcohol. Buzz Pops has operated a Florida franchise for the last 18 months and it is this success that has allowed the company to bring the country the world's 1st adult push pop mobile franchise.